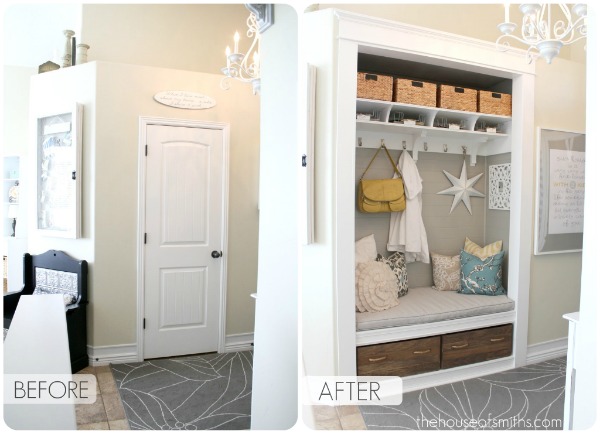 7 DIY Projects to Revamp your Home for the Holidays
Are you hosting the in-laws this holiday season? Do you want to have your house looking up-to-date, stylish and cozy? You've come to the right place! At RGS Contracting not only do we specialize in custom concrete, but we are also known as Eugene's best carpenter! Here are 7 Do-it-Yourself projects to update your home for the holidays.
1. Wainscoting
Difficulty level: easy/medium

Image source: lovelycraftyhome.com 
Add some texture and style to a wall with this easy paneling project. Measure your wall and decide how many strips you want and let's get started! Keep in mind things like outlets and thermostats that can get in the way of the paneling. See the full tutorial here.
2. Turn blinds into Roman Shades
Difficulty level: easy
Image source: sawdustandembryos.com  
Are you tired of your old plain window blinds? This roman shades tutorial will transform those eyesores into something elegant. This quick tutorial is a great way to give a room a face lift with minimal effort.
3. Update Cabinets
Difficulty level: Medium/hard
Image source: beautifulmatters.com
Give your cabinets a makeover with this inexpensive cabinet update. Small changes like painted fixtures, added trim, repainted cupboards will completely transform the look of your kitchen. See the full tutorial here.
4. Arrange Curtains for a larger feel
Difficulty level: easy
Image source: howdoesshe.com
An easy way to accentuate a window is by arranging the curtains to be larger and wider than the window. All you have to do is get larger curtains, extend your curtain rod, and place the rod higher above the window. This creates an illusion that the window is larger thus opening up the room. Find the tutorial here.
5. Create a wood planked wall
Difficulty level: Medium
Image source: thriftydecorchick.com
Give your space a warm rustic feel with this DIY wood planked wall tutorial. Head over to Jerry's or Home Depot and snag some wood planks and a can of your favorite wood stain and you're ready to go! A great addition to this project is setting up a track lighting to show off the new wall. See the full tutorial here.
6. DIY Concrete Countertops
Difficulty level: medium
Image source: abeautifulmess.com
Now here's one we have a lot of experience with, custom concrete! Since concrete is such a versatile and durable material, it makes great countertops. See the full tutorial here. For more ideas on how you can do stamped concrete, give us a call! At RGS Contracting we do more than just concrete driveways and stairs, in fact, concrete countertops are one of our most common projects! Contact us today for a hassle-free quite.
7. Add hooks and shelves to your closet
Difficulty level: hard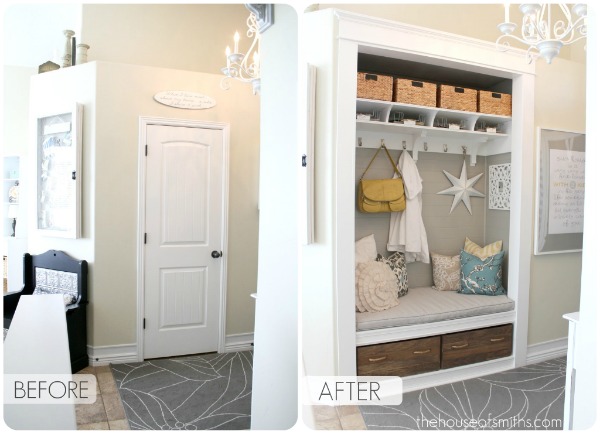 Image source: thehouseofsmiths.com
We all have that overly cluttered entry closet that is a nightmare to open and not to mention a total eyesore. A great solution to this common issue is taking the door off and transforming it into a storage nook. Taking the door off opens up the space and allows easy access, not to mention NO MORE HANGERS! This step-by-step DIY tutorial shows you how you can completely transform that closet into a cozy and functional nook. I will warn you though that this project is a BIG one. So, if you need some reinforcement, be sure to call the best carpenter in Eugene, RGS Contracting!
If you need any help with your home improvement projects, call the best carpenter of Eugene, RGS Contracting! We'd love to hear your ideas and help turn your dreams into a reality. Keep checking back on our blog for more DIY carpentry and custom concrete projects.
Do you have a great DIY home improvement project? Send them our way! We also encourage our followers to get creative with their project. You don't have to follow a tutorial step-by-step and if you need any help, we're just a phone call away!