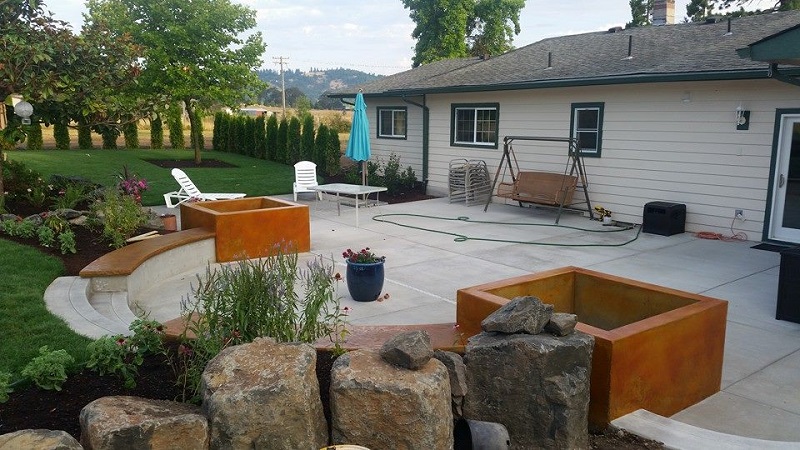 How to Get the Best Summer Patio in Eugene, Oregon
Citizens of Eugene, summer has arrived! You've got your flip flops, sun hat, and bucket of margaritas ready to go, but what about your patio? It used to be that your backyard was just that, a yard out back of your house. RGS Contacting is here to tell you, the days of ignoring your backyard are gone! Nowadays we call a backyard an outdoor living space, where friends and family spend hours recounting old memories and enjoying the great outdoors. So let's get your outdoor living space moving in the right direction and look into some outdoor living space upgrades and ideas. We'll have you looking like the hostess with the mostess in no time!
When it comes to designing an outdoor living space, you have a lot of options at your disposal, but one that can't be overlooked is your patio. Whether you're going for a simple, functional patio design that can fit a patio table and a small BBQ in the corner or a more extravagant patio design with different seating sections and a host of uses, there is one constant in Eugene patios, concrete construction.
Due to concrete's ease of use, durability and design versatility, concrete is the best choice for patios and outdoor living areas in Eugene, Springfield, Roseburg and the surrounding areas of Lane County. You might be thinking, "But what about a nice wood deck?"
We here at RGS Contracting have nothing against wood decks, heck we build those too. But a custom concrete patio has just as many, if not more, options and more benefits than your wood decking and other patio surface options. For starters, concrete is easier to maintain and much more durable! It doesn't require a fresh coat of Thompson's Water Seal every 2 years, won't give your kids slivers as they run across it bare foot, and won't become water logged and weak during Eugene and Springfield's long rainy months.
Most people don't know about or haven't looked into decorative concrete designs for their patio. Decorative concrete gives the look and feel of smooth stone, wood beams, swirling paved stone designs and so much more without the high costs and upkeep! Due to the modern techniques of stamping, coloring and polishing, your new concrete patio can now complement any landscape, any home and bring some individuality to your home's outdoor living space!
The hot trends this summer in outdoor living areas are backyard fire pits and outdoor ovens. With professional design and custom concrete construction, your new fire pit or outdoor oven will be a visually stunning piece of art and a safe and functional addition to your backyard that will last decades. Not a few years like a wooden addition. When it comes to making the backyard of your dreams a reality, RGS Contracting recommends you start with a strong foundation and build up from there… And there is no stronger building block to start your foundation than concrete!