Did you know that concrete can be as useful inside the home as outside of it? For years concrete has been used as a reliable, durable material for sidewalks, driveways, patios and retaining walls but in recent years it has become very popular to bring its great qualities inside for use in kitchens and bathrooms as countertops.
Advantages of Concrete Countertops
The biggest advantage to choosing concrete for your countertops is the near limitless amount of customization and personalization with which you can infuse it. With concrete the biggest factor limiting the options of your countertop is your imagination. Any color can be mixed and you can also choose to have items embedded within it. Some popular choices for embeds include, but certainly aren't limited to, broken glass, small tiles, shells, marbles, coins and even seashells. Since concrete is poured and not cut like granite, creating a custom edge is much easier and simpler. This opens a whole realm of possibilities not usually considered for countertop edges. Such as including chiseled rock (a personal favorite), bevel, concave or reverse cove edges.
This level of personalization means that you can make your concrete countertop match the style and décor of your home. It can just as easily match a rustic look as a contemporary environment or an industrial interior.
Everyone knows that concrete is a hard, durable material which makes it perfectly suited for use as a kitchen countertop. Concrete, like granite, is a porous material so proper maintenance and sealing is required, but concrete doesn't require any further maintenance and care than granite.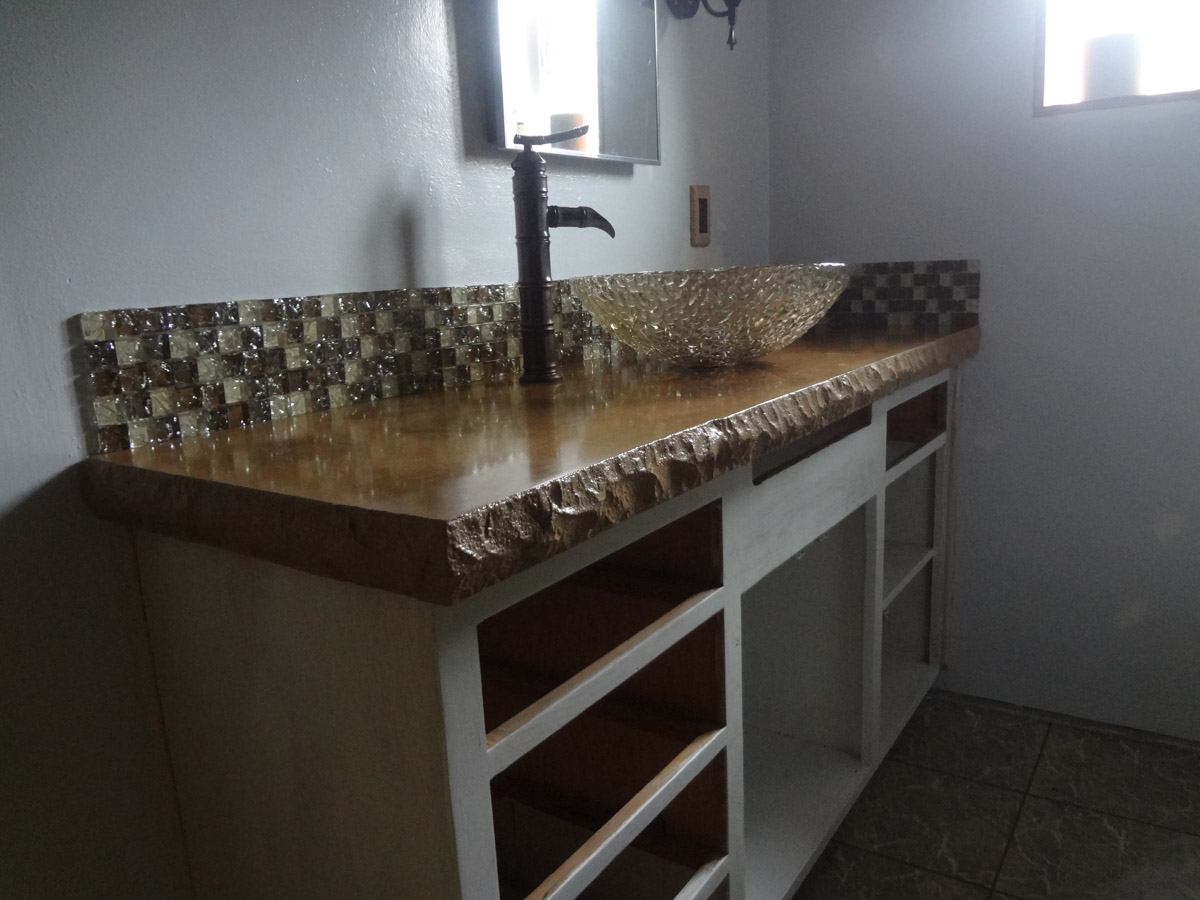 Concrete Countertops Might Be Right for You If:
You want your countertops to be unique to your home and personalized as you want it.
You want a countertop that exhibits a natural beauty and character.
You appreciate high-quality items crafted by hand.
You think granite is too common, too shiny and too formal.
You don't want to use synthetic materials for your countertop which look and feel like plastic and don't handle the day-to-day wear and tear of kitchen operations very well.
You want to use color, and other visual options which simply aren't available with any other type of countertop material.
Why Choose RGS Contracting to Create and Install Your Concrete Countertops
We are certified members of the Concrete Countertop Institute. This means that we are a member of a community of professional concrete countertop contractors who are committed to raising the level of quality and professionalism in this industry. We stay up to date with the latest trends and current best practices to ensure that we are always delivering the best service possible to our valued clients. You are going to have questions throughout this process, and we will almost always have the answers for you. Even in the rare case that we don't, we have a great resource of other professional contractors from which to draw upon to make sure that you get the information you need to make informed decisions about your countertop.
When you hire RGS Contracting of Eugene, Oregon to create and install your countertops, you can rest assured that you are hiring contractors with the knowledge, experience and expertise necessary to deliver the best product possible.